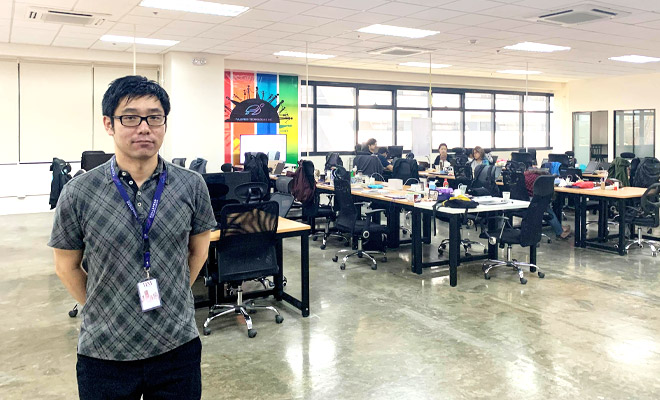 Connect Spirit with Advertisement and IT
Full Speed Inc.
Chairman Tomomatsu Koichi
Raised in Gifu prefecture. After graduating Nagoya University, he worked at a human resources venture company. His monthly sales was 5 billion yen and he became in charge of the marketing, then he changed his job to the Internet advertising industry.
He started from scratch in a field he had no experience in and worked my way up to CEO.
We asked about the past of Tomomatsu-san himself and business development in Cebu, Philippines from the service of Full Speed Inc.
Spirit ∞technology
What kind of business do Full Speed do?
To explain briefly, we do Advertising / ad tech*1 business in Japan.
In Cebu, we have a subsidiary called FULLSPEED TECHNOLOGIES INC. our main jobs are creating ad tech system, Banner advertisement*2 system development and bid.

*1 Ad tech : An abbreviation for ad technology, which is an advertising technology using the Internet.
*2 Banner advertisement : Among Internet advertisements, advertisements that are expressed by images or animation.
What kind of service is it?
Our service allows you to selectively deliver banner advertisement to a company's computer by using your company's IP address.
The strength of our service is that we have a database of corporate IP addresses and proprietary technology, and able to advertise more efficiently. (Patent pending)
That is interesting. what kind of society are you aiming for by using such services?
The Full speed Group have a vision and concept called "Spirit ∞ Technology".
We read the ∞ as "connect to" and "Spirit ∞ Technology" means to use technology to connect people to people, people to services, and infinite growth.
As our goal, we would like to expand our business by using an advertising service for BtoB.

For an easy example, we created a SNS few years ago.
I think there is a popular app between highschool students that you can share your location with others, we were trying to create the same thing.
We tried to gather users on SNS and make something that delivers advertisements directly, but we could not make it popular and failed.
We failed so please don't say it too much…. (laugh)
The road to the CEO
What kind of student were you in college ?
At that time, I was interested in a consulting company and had actually received a job offer, but I declined the job offer because my parents told me that "you can not do a business consulting even though you have never sold anything yourself! " I was convinced by the words.

At that time, I started working as a member of the staffing agency of a human resources venture company, because the person who worked there who I know persuaded me hard.
When I actually joined the company, it had a corporate culture like "we don't care how educational you are" and I was often bullied like "Can you really work?"
Since I was from a national university, I just worked hard with the feeling that "I would never lose to them".

When I think back now, I think I wanted to fight whether I could work in a place where nobody knew anything and my educational background was irrelevant.

Currently, we are also holding a startup business contest, I think that the college students now can do programming, go abroad, plan their own business, it is really amazing.
That is a great company. (laugh) What kind of job did you do there?
There were two activities in the former temporary staffing company, recruiting and corporate marketing and I was doing marketing for corporates, creating sales lists, listings, and seminars for companies.

When I was an area manager, my monthly sales were about 5 billion yen, and at the end I was also in charge of marketing at the head office.
Why did you change your job?
The company got out of business so I had to change my job.

However, at that time I thought that I might have been lucky so far.
I may have been lucky enough to have been successful, or maybe just blessed by my boss.

When I thought so, I started thinking, "Well, I would like to start from scratch again and try to see if I am really the person who can pass the society."
Then I decided to enter the Full Speed of the Internet industry, and I am here now.
What was your job at Full Speed?
At first, I was in charge of operations to support sales.
My stance is to do whatever we can to earn the trust of our salespeople, from data analysis of sales planning to construction of sales management systems and ERP.(laugh)
I was also studying how to do Requirements define, so I was devoting myself to work to improve the sales staffs troubles, saying, "I can do this in 5 minutes, please send me the file."

Then, 2.3 years later, one day, I was called by the then CEO and he grinned and said, "Tomomatsu, you are from a human resources company, aren't you? The incentive system design is the key to human resources ". Suddenly I became the Human Resources Manager. (laugh)

For some reason, the president's secretary work was also included in the human resources work, so after working in sales, HR and secretarial work, I was appointed CEO few years later.

Currently, the entire Full Speed Group has three segments, incubation, and administrative headquarters, which are the main framework for the marketing segment, ad tech segment, and affiliate segment, and I'm in charge of the whole group, the marketing segment, and incubation, and I'm mainly in charge of coordination between the groups and between segments.

*3ERP:Abbreviation for Enterprise Resource Planning, to appropriately distribute and allocate the resource elements of corporate management.
*4Requirement definition:To clarify the functions to be implemented and the performance to be satisfied in system development.
How is the world being CEO?
In the past, I used to do things like, "The CEO said so let's just do it," or "I'll just assume that it's the CEO's fault and move on". (lough) Otherwise, everyone wouldn't move.
I thought that it was a completely different world in that the step of consulting above was eliminated and everything was at my own risk.
Therefore, the biggest difference is that the viewpoint and way of thinking have changed.
Having a base in Cebu
why have you chosen Cebu as a destination?
First of all, the premise was that we could no longer hire domestic engineers due to high labor costs, so we decided to hire engineers in either Vietnam, Manila, or Cebu, where labor costs could be kept down.

In Vietnam, there are not so many people who can speak English, so it will be necessary to communicate in Vietnamese within the company. However, it doesn't motivate the Japanese to learn Vietnamese. On the contrary, it is not enough for the overseas IT engineers to learn Japanese.

On the other hand, Manila Cebu has the advantage that many people can speak English.
In that case, the Philippines, where English, which Japanese people can learn highly motivated, is appropriate as a destination.
However, there were already Japanese companies in Manila, so we decided to set up our base in Cebu, where there were still few Japanese companies at that time.
How is Cebu actually?
I thought that it is a city in Southeast Asia in general.

Philippines who graduated college can speak English, so we check their programing skill to employ them.

In Cebu, we have 30 Filipino engineers and 20 Filipino office staff developing ad tech and BPO.
What is the advantage to have a base in cebu?
After all, I think the cost has been reduced by half.

Also, it seems that it does not matter at all, but the level of hiring new graduates in Japan has changed considerably. I think it's because I've come up with a global image, but the number of applications from people who have studied abroad has increased considerably.
They are all thinking, "This is a global age, so I need to gain experience by studying abroad," so they are excellent at running on their own.

We hired engineers in the Philippines because it was difficult to hire them in Japan, but in the end, this had a positive impact on our hiring in Japan.
We are setting up a new shared office / co-working space called enspace Cebu in Cebu.
What are your expectations?
After all it's a community. Working alone is quite painful. I think it would be great if we could go out for a drink or something like that, whether it's inside or outside the company.

You know, there are people at work who are told to go overseas for no big reason.
There were a lot who came back because it is hard working alone overseas, so it was a cover for that kind of thing.
Also, I think it would be good to have a support system to help you get into the market because it's troublesome for a listed company to make a contract.
Change from myself
What kind of people do you think are the human resources required for society in the future?
First of all, speaking English, which is one thing. Managers of companies above a certain level in Southeast Asia can speak English.
Only Japanese managers can do without speaking English.I think it is absolutely necessary to have English when starting a company or doing something.
Even engineers can't work if they can't read English. In particular, if you want to read a paper, you have to be able to speak English, right?
In this respect, being able to develop and operate in English was the best thing about moving to Cebu.
After all, you can learn English yourself.

Changing yourself is not so hard compared to how hard it is to change others, so by changing yourself, you will be able to solve your problems on your own.
Contact Us
Please contact us if you are interested.
Contact Us