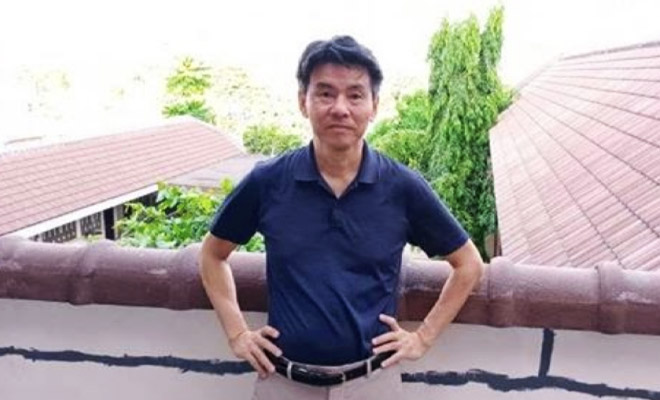 Encouragement of Philippines business told by the manager of building contractor who conducted 50 cases construction.
Aloma Construction And Engineering Services
Representative Mr, Kijima Ryuichi
He's from Fukuoka prefecture, Japan.
At the age of 45, he quit a company job to set up on his own and established a building constructer called "JYUURAKU" conducts remodeling and new construction.
He visited Cebu for the first time in 2013 and established "Aloma Construction And Engineering Services".
His company design and construct Japanese companies that have advanced into Cebu, and provide Japanese-level building quality and construction speed.
This time, we asked Mr. Kijima, who was in charge of the design and construction of enspace Cebu, why he has started his business in Cebu and what is the attraction of Cebu island, Philippines.
One of the few Japanese building contractor in Cebu
What business does Aloma Construction And Engineering Services do?
Aloma Construction And Engineering Services is building contractor that consistently handles everything from building design to construction on Cebu island,Philippines.

Japanese conglomerate construction companies are also expanding into Cebu island, but there are only two Japanese construction companies in total.
What kind of projects does Aloma Construction And Engineering Services mainly deal with?
We were working on over 50 projects with focused on manufacturers, restaurant and language schools until now.

Many Japanese companies, including manufacturers, language schools, and IT companies, are expanding into Cebu, and the number of projects we undertake is steadily increasing.
Business in Cebu has started by chance
We heard that you used to run your own company in Kitakyushu City, Fukuoka Prefecture, but why did you decide to advance into Cebu?
7years ago, I met with a person who wanted to run an English school and the person got in touch with me, but before that I have no idea to expand into abroad.

I hesitated because I had no experience working abroad, but I thought, 「If it's just design」,I wrote a design drawing and handed it over.

However, I was asked to do the construction, so I managed to find a Filipino carpenter and did the construction.
After that, with the Filipino carpenter as general manager, I started the current company in Cebu.

Looking back, It happened by chance. (laugh)
What are the differences between a Japanese construction company and a local (Cebu) construction company?
Abroad, architecture often enters the field of art, but in Japan, it often enters the field of science from the perspective of disaster prevention.

Therefore, there are things that cannot be explained only with drawings and things that can only be explained in Japanese, and the sense of architecture is often different between Japanese and Filipinos.

Another big difference is also that Japanese construction companies can communicate in Japanese.

On the other hand, companies with many Japanese staff are often expensive.

The price is set quite high because the former conglomerate construction company in Cebu also employs many Japanese staff.

Our staff are all Filipino except me, so we can accept Japanese projects at the same price as the local construction company.
Differences between Japan and the Philippines in terms of craftsmanship
What was the hardest part of doing business in Cebu so far?
It is difficult to motivate people so far.

Filipino construction workers often doesn't even speak English, and I can't speak Visayan language, so it's very difficult.

Therefore, Communicate with staff who can speak English and Visayan language.

Depending on the content, it may be confusing if the Japanese interrupt, so we may judge the situation and leave the exchange to the Filipino.

There are many things that are possible in Japan but difficult in the Philippines, and depending on the content, this may break, but since there are many Japanese customers, we are sticking to the stance of properly persuading the parts that cannot make a concession.
Do you feel any difference from Japanese when you work with Filipinos?
In the construction industry in Japan, there are people called "craftsmen" who have acquired high technology and specialized knowledge by working in the field for decades.

On the other hand, there is no concept of "craftsman" in the Philippines.

Japanese craftsmen are recognized for their social status, so they bring pride and work properly, but when I explain to Filipinos about craftsmen, "What do you do for decades? Is it okay?".

As a result, Filipino construction workers do not have high skills or expertise, and many do construction work as a temporary job.

I feel that the sense of responsibility, knowledge, and experience that arises from these differences in culture and social structure are the major differences between Japanese and Filipinos.

※Visayas: A language spoken in the Visaya region of the Philippines. Cebu island is in the Visaya region of the Philippines.
Cebu has two sides, a resort area and a business district
In 2021, we will launch a shared office / co-working space called enspace Cebu in Cebu IT Park. What do you think of Cebu as a business environment?
Recently, due to the diversification of working styles, shared offices and co-working spaces have been built in various places.

For example, resort areas used to be used only for vacations, but in Fukuoka, Japan, it is popular to set up shared offices along the beach.

On the other hand, the perspective as a business district is also indispensable.

Since you need to gather information and friends, setting up a base in various companies and places where information gathers will give your company an advantage.

From the above two perspectives, I think Cebu has the potential to realize the two advantages of resorts and business districts.
Please give a message to companies that are considering expanding into Cebu
In the end, I think there are a lot of things that you can't understand until you come, things that you can't understand until you try, and things that don't work.

At that time, I think the important thing is coming to like Cebu.

Actually, there are many Japanese who came to like Cebu after they move.

I think Cebu's appeal is that you can see an advanced area like an IT park and a local area with barracks at the same time.

It's like a miniature version of Asia, a mixture of Singapore's business district and Southeast Asian slums.

Another advantage of the Philippines is that you can speak English by taxi, and the prices are very low, so I think the threshold is very low as the first step to expand overseas.

As for the living environment, IT Park is very good because the number of large commercial facilities and condominiums is increasing.

I happened to come to Cebu myself, but when I come here, there are a lot of fun.
Why don't you visit Cebu as well?
Contact Us
Please contact us if you are interested.
Contact Us