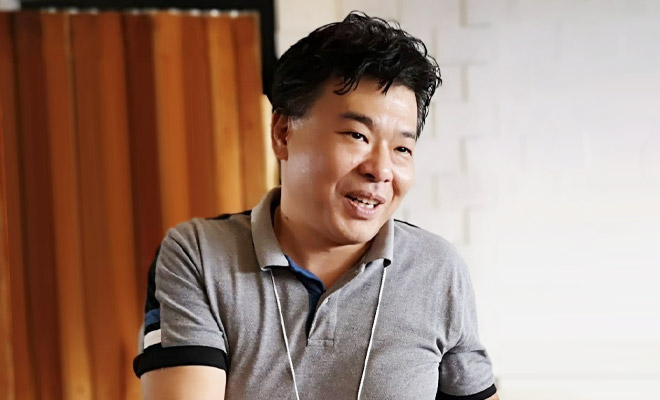 The essential point of the active consultant in Cebu
Global Innovation Consulting Philippines Inc.
CEO Mr. Shuichi Nakamura
Raised in Nagasaki prefecture. He experiences starting his own business, IT company, management of restaurant and M&A. After that, he learned from a lot of failure and success and established GICP to support Japanese companies expanding to the Philippines.
This time, we asked about jobs in GICP, experiences and will for expanding to Philippines Nakaura-san handling back office support of enspace Cebu.
Global Innovation Consulting Philippines Inc.
What is Global Innovation Consulting Philippines Inc.(GICP)?
First, There is Global Innovation Consulting(GIC) dispatching foreign people and supporting expanding abroad as a parent company in Japan.
In dispatching foreign people, we educate and dispatch Myanmar software engineers to Japan, dispatching 120 persons to Japan in 2020.
In supporting expanding abroad, we provide accounting, tax affairs and legal support in Myanmar, Philippines and US.
Among these, GICP supports the expansion of Japanese companies to the Philippines.
Even if it has "Consulting", we think with clients and help complicated jobs instead of clients.
Please tell me the features of GICP.
Actually, many of the directors in GIC are from IBM Japan, we are strong in IT and good at supporting expansion of IT companies.
Of course, we support other than IT companies.
What matters does GICP deal with?
We undertake 2 types of cases.
First, opening the cost center: offshore development center, call center using cheap labor costs. Second, Sales their own product and other company's products to abroad market.
Both types of cases, we support all necessary things to open the business: creating a business plan, registration company, obtaining business license, recruitment, negotiation with local companies, dealing with trouble and filing tax. Recently, M&A cases have been increasing.
Transition offline to online in Philippines
What was your trigger for starting business in the Philippines?
It was to establish a business as an offshore development to keep software development costs down. That was so exciting because There aren't many companies that challenge Southeast Asia then.
I have made a lot of mistakes but I talk another opportunity. (Laugh)

After that, I experienced some business in the Philippines and went back to Japan, but I couldn't forget the smile of Filipino. I attended the early days of GIC in 2011 and established GICP as a group subsidiary in 2012.

There are 14 employees(including CPA) and 13 advisers(including lawyer) in GICP now.
What are your jobs in GICP?
I manage the whole GICP as a president.
My jobs are explaining customers who want to develop the business the cost and risk and, supporting decision making.
Also I gather the information that is announced by the government and local autonomy.
What kind of companies do you think are best suited to expand the Philippines?
Currently, work from home environments are spreading rapidly in Japan due to the effects of COVID-19, and here in the Philippines, the same thing is happening.

What is required is not a temporary initiative, but a full-fledged consideration of new ways of working, and the spread of an honest attitude and habit of working from home to achieve a better work style and work-life balance.

I think that companies that have a system that takes those considerations will have an advantage in expanding the Philippines.
Perhaps the introduction of a novel online technology could yield good results.

Also, if the business is only focused on the domestic market in the Philippines, you will not be able to make much revenue.
As an example, we recommend that you work with your trusted Filipino colleagues to develop a business plan that will allow you to expand the larger North American market in the future.
The biggest attraction of the Philippines is "the people".
Why do you focus on the Philippines?
Because I'm attracted to the "people" of the Philippines.

First, Filipinos are young and full of young energy.
If we can build a team that is moving in the same direction, I think it would be a great help.

Secondly, Filipinos have a very understandable mindset in that they are Christian. They also have a lot of Spanish and American influences from historical facts.

There are few countries in Southeast Asia that have Christian and American culture.
Compared to other religions from the Japanese point of view, I feel that the decisions of Filipinos in life and work are still more predictable and acceptable in some ways.

In terms of national character, we Japanese are said to be the most serious and hardworking people in Asia.
Filipinos, on the other hand, are the opposite, with an optimistic outlook, and for Filipinos, the most important thing is not work, but happiness with their families.

Talking to such Filipinos often makes me think about fundamental happiness and family, and it has an impact on me.
What do you think about Cebu as a business environment, as we will be launching a shared office and co-working space called enspace Cebu in Cebu IT Park in 2020?
It's very good because it's the most developed place in Cebu with companies from all over the world.
Office rent in IT Park is very expensive, even in Cebu.
I think it's a very good approach to solve those problems in the form of a shared office/co-working space.
What is the most important thing about doing business in the Philippines?
Of course, experience and knowledge in Japan are important, but it is important to gather information on the ground and make judgments based on your own experiences, rather than judging events that occur in the Philippines based on Japanese common sense alone.

For example, let's take a situation where a person comes to work on a rainy day.
In Japan, you leave your house a little earlier than usual and try to arrive at work on time, right?

On the other hand, many people in the Philippines are late for work.
It's easy to get angry about that tardiness, but when you experience it the same way with that staff, it can be really difficult, such as knee-deep rainwater in the vicinity of your home.

I believe that it is very important to take action based on a firm grasp of what is happening outside the scope of one's imagination, which is very important in a foreign country.
All you need is "love"
Do you have a message for companies that are thinking about expanding into the Philippines?
If you are thinking of expanding your business in the Philippines, please contact us.
We will do our best to support you for your success in the Philippines.

We also want our clients to fall in love with the Philippines.
This is the most important thing for overseas expansion, not only in the Philippines but also in other countries.

When expanding overseas, unthinkable things happen as a matter of course in Japan, and there are many times when you feel like you are going to fall behind.

Affirm, not just make up reasons to deny it.
We also learn about the culture and environment and take it into ourselves and add knowledge and interest to it.

People will never give up if they love it, and they can invest resources in it.

It is part of my job to make people fall in love with the Philippines by focusing on the culture, the people, and the nature as well as the business environment, and I want more people to fall in love with the Philippines.
Please come to Cebu, Philippines!
Contact Us
Please contact us if you are interested.
Contact Us